Tropic Good Skin Day Resurfacing Serum is a oxygen booster that gently exfoliates dead skin cells to refresh your look. It's a multi-step formula that works to rejuvenate your skin cells with anti-aging vitamins and essential oils. This serum will not only give your skin a quick re-hydration but also help you exfoliate dead skin cells to promote healthier-looking skin. Made with 100% natural ingredients, the serum is free from harsh chemicals that can compromise its efficacy. It's lightweight but leaves your skin feeling soft and smooth. It's also a great choice for those who have oily skin due to medication or makeup usage.
Review of Tropic Good Skin Day Resurfacing Serum
I was a little bit sceptical about the product at first, but I guess it's true that you shouldn't judge a book by its cover. So when I started using this Night Serum, I was amazed by the results. It's been just one month since I started using it and I already see my skin is much smoother than before. Highly recommended! – Amelia Abbott
I have been using the Tropic Resurfacing Serum for about a month now and I could not be happier with the results. I have noticed a significant improvement in my skin's texture and color. My skin also has a nice glow to it now and feels super soft! I'm addicted! Thank you Tropic for such an awesome product! – Libby Sinclair
I am a licensed Esthetician, so I am very particular about the products I use. This is a great product. It's lightweight, and it smells amazing! My skin feels supple and smooth when I wake up in the morning. The texture is soft and moisturized, which is not how my skin feels if I don't use this product every night before bed! – Freya Cameron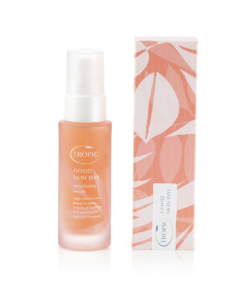 Product Descriptions
Tropic Good Skin Day Resurfacing Serum is a lightweight, fast-absorbing oil-free treatment for all skin types. This serum works to exfoliate and resurface dull skin while providing intense hydration, keeping the skin shine-free, smooth and youthful. Tropic Good Skin Day Resurfacing Serum uses AHA Fruit Complexes and Papaya Enzymes to refine pores and reduce breakouts, Willow Bark BHA to gently exfoliate away dead skin cells, and Coconut Water to help replenish the skin with essential vitamins and nutrients. Designed to firm and brighten skin, this tingly, refreshing gel serum brings a unique blend of tropical extracts to help safeguard, protect, and exfoliate the skin.
Features
Remove Dull Surface Cells
Exfoliate dead skin cells
Refine, smoothen pores and minimise fine lines and wrinkles
Hydrate your skin with rich moisture
How to Use
1. Wash your face thoroughly,
2. Apply the resurfacing serum all over your face
3. Leave it on for 20 minutes
4. Rinse off with warm water
5. Now apply Skin Feast as usual