Are you shopping for a new mom in your life? Or maybe you're a new mom and you're looking for ways to practice self-care and treat yourself. Either way, new moms deserve all the love, gifts, and pampering they can get. If you're shopping for a new mom, it can be hard to find a gift that is meaningful and all about them. Most times, people want to get gifts for the child or help the mother stock up on supplies. And while these gifts may be meaningful and ideal, they aren't necessarily meant to allow the mother to indulge in experiences or products that could reenergize them.
Do you want to find a gift that allows a new mom to relax, unwind, and prioritize herself? If so, you're in luck. This gift guide is all about centering self-care for new mothers, which can be critical in ensuring that moms feel prioritized during this time of adjustment, late nights, and early mornings. From giving clean hair care products to a day at the spa, these gifts will remind new moms to pamper themselves with care and compassion, too. Keep reading for the best gifts to give new mothers.
Giving Self-Care Gifts to New Moms
When you're giving a gift to a new mom, it's important to think about one that can help them indulge in self-care. Becaus new mothers have to care for others so much when they bring newborns home, their own self-care often becomes sidelined. However, studies show that new moms are prioritizing self-care more today than they have in the past, which means your gift with self-care in mind will probably make yourrecipient incredibly grateful and happy. Not only is self-care important for new moms, but it could be essential to help them through postpartum depression. Giving the gift of self-care could save the new mom in your life from feeling detached, depressed, and empty. Even using clean beauty products during their morning routine can make all the difference to new moms who are tired and feeling unprioritized.
Gifts Every New Mother Would Love
Let's get shopping for that new mom in your life! We know you will find a gift on this list that resonates with your knowledge of the recipient or that you would enjoy.
Quality Skincare and Makeup
New moms don't always have the opportunity to wake up, complete their skincare routine, and get ready for the day. However, by giving vegan makeup to the new mom in your life, you're showing them that it's okay to take time for themselves and indulge in the practices that make them feel fulfilled and happy on a daily basis.
Clean and vegan makeup and skincare products could also be a high priority to new moms, as they could be more mindful of ingredients they are using since they are always in close contact with their newborns. If the mom you're giving a gift to loves makeup and skincare, this could be the perfect selection for them.
Get the new mom in your life out of the house for a little bit with a manicure and pedicure. This self-care gift is a great way to let moms know that they deserve to treat themselves.
Now, this gift isn't for every mom. While some moms may hate the idea of spending time without their new child and being far away, some moms may need a little getaway. Whether you plan a trip with friends or it's more of a family vacation where they can bring their newborn along, this is a great way to re-energize and re-charge. Before you give this experience to a new mom, it may be a good idea to chat with them about how they feel about going on a trip or spending time away from their infant.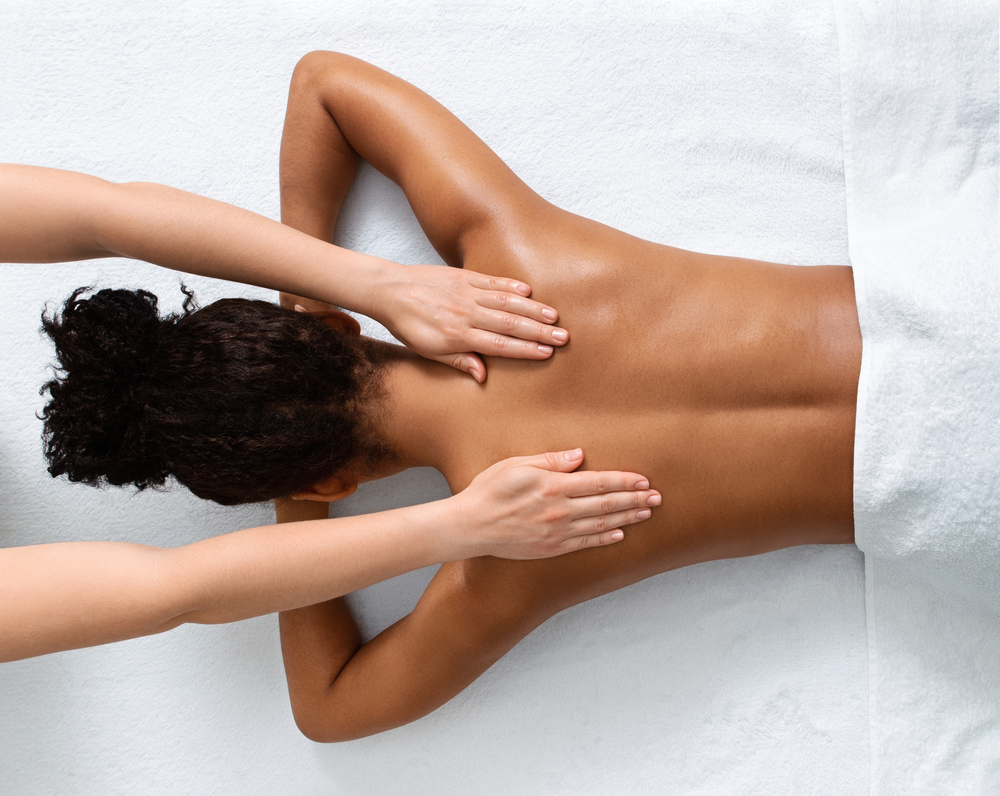 Source: Prostock-studio/Shutterstock.com
No one can resist a day away at the spa—especially new moms. This gift could look like a massage or a trip to a luxurious bathhouse. Give the new mom in your life a chance to unwind, center herself, and relax.
Nothing brightens a room or someone's day like flowers. You can set up a recurring flower delivery or sign up the mom you are giving a gift to a flower subscription service. This is a simple gift that will make new mothers smile.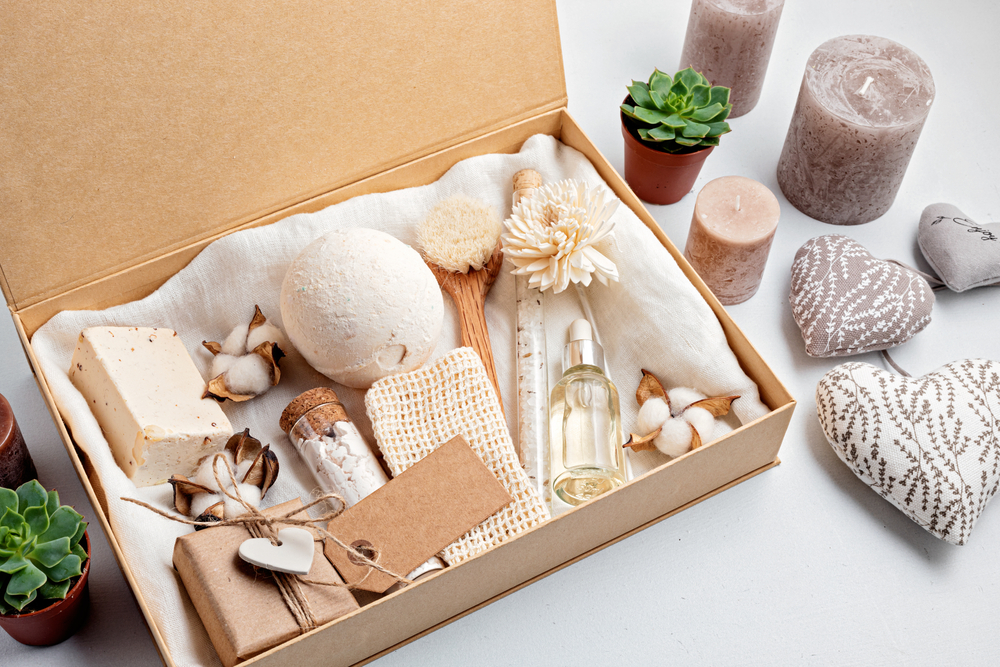 Source: Netrun78/Shutterstock.com
If the new mom in your life wants to stay close to home but is desperately in need of some self-care, you can assemble a self-care basket that includes all of the experiences that can help them wind down at home. Some things we love to put in these baskets are Epsom salts, luxurious lotions, and oils for dry skin, candles, face masks, and massagers. You know the recipient best, so you can customize the basket to include gifts that will be irresistible to them!
Luxe Pajamas and Loungewear
New moms spend a lot of time in loungewear, but that doesn't mean they have to stay in the same old baggy t-shirt and sweatpants every day. You can elevate any new mom's day with the gift of luxe loungewear or pajamas. Wearing loungewear made with high-quality fibers will make new moms feel more confident and put together.
If the new mom in your life loves her morning cup of coffee, what better way to pamper them than with a fancy new coffee machine? This will surely enhance anyone's morning routine.
Have you ever tried using a weighted blanket? It's like a secure, grounding, and satisfying hug that never ends. Giving a new mom a weighted blanket could be the best way to offer her comfort whenever she needs it.
What better way to give a new mom a break than with a catered dinner? Busy moms have to juggle it all, but, by offering to cater a meal, you allow them to sit back and relax.
These gifts are sure to impress and stun the new mom in your life! Make sure to put your own personal touch on these ideas because you know the gift recipient best.