Hello everyone, Last time I reviewed Smoky Shampoo and today I am going to review one more amazing product and it is Bleach London Pearlescent Shampoo and is designed for light blonde hair or pinky-purple tones. This Nourishing shampoo is for a subtle, soft and pearly blonde tone. It is used on bleached hair and proper wash to keep your sheen pristine.
After a long time, I got a shampoo that can provide a lovely pink tone to my hair and it is awesome. The problem of greasy or dry hair is over.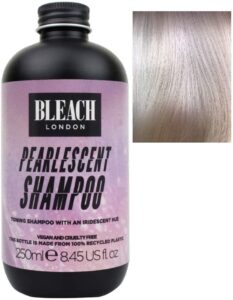 How to Use Bleach London Pearlescent Shampoo?
When you want to take a bath then put some shampoo in your hand and rub it and when lather comes then apply it onto the wet hair and massage it through to ends. Rinse with water then for better results apply Bleach London Pearlescent shampoo for depth of colour.
Read: Smoky Shampoo Review
Precautions
This Pearlescent Shampoo contains some ingredients which may cause skin irritation on some people so try to use skin test first then use it because safety first.
For the skin test, apply some small amount of product to the skin of your hand and don't cover it for 45 minutes then rinse with water and leave it for 48 hours and if you feel any abnormal reaction then don't use this product and immediately consult with a doctor.
Try to not use oil before bleaching because oils can stop the bleach from penetrating and create patchiness.
Do not use it for dyeing eyelashes or eyebrows, if used then it may cause blindness.
Ingredients
Sodium Laureth Sulfate is used as a cleansing agent and to remove oil and dirt from your hair and for the same function also used Ammonium Lauryl Sulfate, Sodium Chloride rich shampoo is good for the oily hair or skin and not good for dry hair or skin.
Cocamidopropyl Betaine is used in shampoos to create a rich and thicker lather, and in conditioners for softening hair. Wheat Amino Acids add shine and repair damaged hair.
Hexyl Cinnamal and Butylphenyl Methylpropional are used as a fragrance additive.
Read: Bleach London Violet Skies
Triethylene Glycol is used in cosmetic products as a fragrance ingredient. Citric Acids are added to maintain the pH level of shampoo. Sodium benzoate is an antifungal agent and used as a preservative.
Polyquaternium 7 decreases damage to hair and sticks with hair. Also, provides conditioning benefits such as ease of combing and shine. Polyquaternium 10 helps to improve the texture of hair.
Now it is the time to see the customer reviews and try to understand the other person's opinion regarding this product also.
This is really an amazing product and I used this shampoo alone and also with the conditioner and prefer it for without conditioner and I have platinum blonde hair and this gives it a rose gold hue. From the cons perspective, I am very disappointed with the packaging and it's very difficult to dispense the product during the shower.
Read: Bleach London White Toner
When I use this shampoo then it feels great and my hair looks salon toned and very happy with this product. I will definitely rebuy this product and it is a great effort to use recycled materials and be cruelty-free.
This Bleach London Pearlescent shampoo gives the perfect purpled pink colour and works very well and its smell is amazing and feels soft and refreshed.
Conclusion
I hope the above review helpful for you to understand the quality of this product. But opinions vary from person to person. So, definitely try this one and give a comment here that shows how good it is from your perspective. The product availability on the internet is good and easily available on Amazon. So, go and book now.