The HERA Urban Veil Blush & Infallible CC Cream is a revolutionary  product that transforms the way you look at your skin while at the same time giving you glowing, healthy-looking skin. The result is a healthy-looking glow that is instantly absorbed by the skin's surface, leaving behind a smooth, even canvas for your artwork and makeup. Infallible means that this product's moisture-curing properties stay active on skin cells — even in areas that have previously dry or dulled. With SPF40/PA+++  protects the skin from UV rays.
Review of HERA Urban Veil CC Cream SPF40/PA+++
I've been using this product for nearly a week now and I still can't get over how good it is. It goes on so smoothly and not at all heavy, blends easily, provides amazing coverage, and it does what it claims to: hide pores, dark spots, uneven skin tone, etc. I used to use a primer before putting my foundation on but ever since I started using HERA's Urban Veil CC Cream, I can just use it alone and look great! – Aimee Lamb
I'm not a big fan of make up as I've had bad experiences, but after trying this I was very impressed. I was so amazed at how my skin looked so smooth and fresh (I have large pores, oily skin and acne scars) when the product dried. It did not oxidise nor cause any breakouts. For the first time in my life I felt confident to go out without foundation on. Whoo hoo!. – Isabel Khan
I bought the CC cream sample and I really liked it! It was very light on my skin, it covered all my redness and blemishes, and it lasted all day without needing to reapply. I have combination skin and in the summer it gets oily throughout the day so before I tried this product I was worried that it would settle in my pores and make me look even more oily. But that didn't happen at all! – Bethany Hartley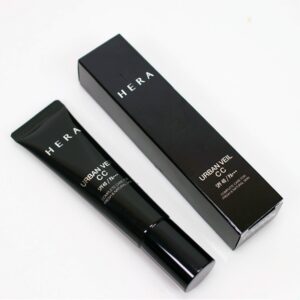 Product Descriptions
The Urban Veil CC Cream SPF40/PA+++ from HERA covers blemishes, pores and uneven skin for a bright and smooth makeup base. Made in Japan where premium cosmetics are famous for their quality and purity, the Urban Veil CC Cream provides natural coverage and absorbs quickly with its blend of vitamin C and green tea extract. Formulated without parabens, mineral oil or colorants, it is gentle on your skin while also protecting it from harmful UVA rays.
Features
1. Light weight texture
2. Long-lasting finish without stickiness
3. Water and sweat resistant
4. Broad spectrum UV protection
How to Use
1. After using Magic Starter, release a pea-sized amount onto the back of your hand.
2. Apply CC cream onto the cheeks, forehead, nose and chin in small dots.
3. Use your middle and ring fingers to spread thinly for adherence.
4. Use the tip of your ring finger around the eyes, nostrils, and lips to finish thinly and evenly.