The Janeiro 100% Virgin Brazilian Remy Hair Extension is the most cost-effective product that provides 100% natural looking hair extension with the maximum service. The texture of the material feels like real hair. The design is clean and simple without being too flashy or complicated. The thicker gauge hair allows for more styling options making it versatile enough to rock with your everyday wear as well as dress up casual outfits. Ideal for girls who wear their hair long and who want to make it appear more voluminous or buzzed. The result of this will instantly make you feel like a queen of hair. This product is totally appropriate for any occasion, even weddings.
Review of Janeiro 100% Virgin Brazilian Remy – BODY WAVE
This is the best hair I've had in a very long time. I've been getting Brazilian for about 12 years now and this was one of the best experiences I've had. The hair is super soft and silky and there's no shedding at all. I've washed it several times and conditioned it a lot, it still looks like new! It's definitely worth the price. Thank you so much! – Brooke O'Sullivan
I've been wearing extensions for years now. I have tried many types from very cheap to very expensive, and I can say that the Janeiro 100% Brazilian Remy is the best hair extensions ever. They are so easy to put in and they feel so light on your head. They are very soft and shiny, and you can do pretty much anything with them. The color looks very natural. I am totally in love with these extensions and will never use any other brand again! – Niamh Turner
I have very thick, coarse hair and I was very nervous about having Brazilian hair extensions put in. I had a bad experience with synthetic hair extensions from another company. But I am so glad that I tried it. The difference in quality is amazing. My hairdresser did a great job and it only took her about 3 hours to do the whole set. – Elise Kerr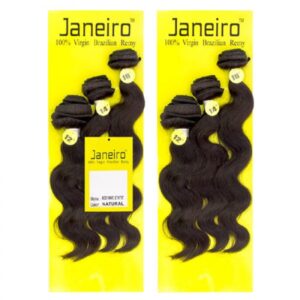 Product Descriptions
Our hair extensions are made high quality, durable hair, soft and thick. The 100% virgin hair is cuticle intact from one donor. Only the top grade of human hair is selected for our products and hot air remy-ing is performed to each piece of hair extensions. The result is a silky, shiny, smooth and straight natural looking hair. This remy hair is best only when you wear it & it will not tangle or shed. If you have fine to medium textured hair then this could be the perfect 100% human remy hair for you.
Features
1. 100% human hair
2. Collect directly from donors
3. The hair is soft, smooth and shiny
4. Can be dyed or bleached