New York is synonymous with style, fashion, class, and uptown life. So, it's no surprise that we went on a wedding dresses NYC search to bring you your dream attire. New York bridal shops boast couture, atelier, world-class, and upcoming local designers. And they will outfit you with only affordable luxury from top to bottom. So how much is your budget and are you ready to shop for a killer dress? If you are ready, see some of the best wedding dress shops NYC had to offer.
The Mews
If you want to enjoy a minimalist ambiance while experiencing Parisian fashion, visit The Mews. The minimalist decor of this United Kingdom original, based in Chelsea, New York, will draw you in. And if you thought of flying down to Paris for your wedding dress, you'll feel at home here. Their specialty revolves around French couture designers like Delphine Manivet, Rime Arodaky, and Laure de Sagazan. Of course, other designers would also help inject romance into your dress.
Kleinfeld bridal
Almost every fashion-forward bride asks, where is the bridal expo near me? Well, bridal expo or not, Kleinfeld is your dream place for NYC wedding dresses. Located in the heart of New York, this boutique remains the largest luxury bridal retailer in the world. For over seven decades, its presence spans all over the globe, boasting the very best of American and European designs. Get a feel of what to expect by watching the "Say Yes to The Dress" reality hit show on TLC. Yes! Kleinfeld is in the middle of it. The knowledgeable staff, soothing ambiance, tailored attention, and hands-on approach would convince you.
RK bridal
RK Bridal opened shop over six decades ago and went on to become one of the best wedding dress shops NYC has. With about 30,000 square foot space, it's expanded four times since its inception. Visiting RK Bridal is like a girl getting lost in a candy shop. You're allowed to search the dresses by yourself until you find the one. We bet you that the most popular designers have their pieces in stock. Don't worry about your size or price because they carry even plus sizes at the lowest price. And we'll whet your appetite by giving you this tip. If you find your dress cheaper elsewhere, RK goes lower by 5%.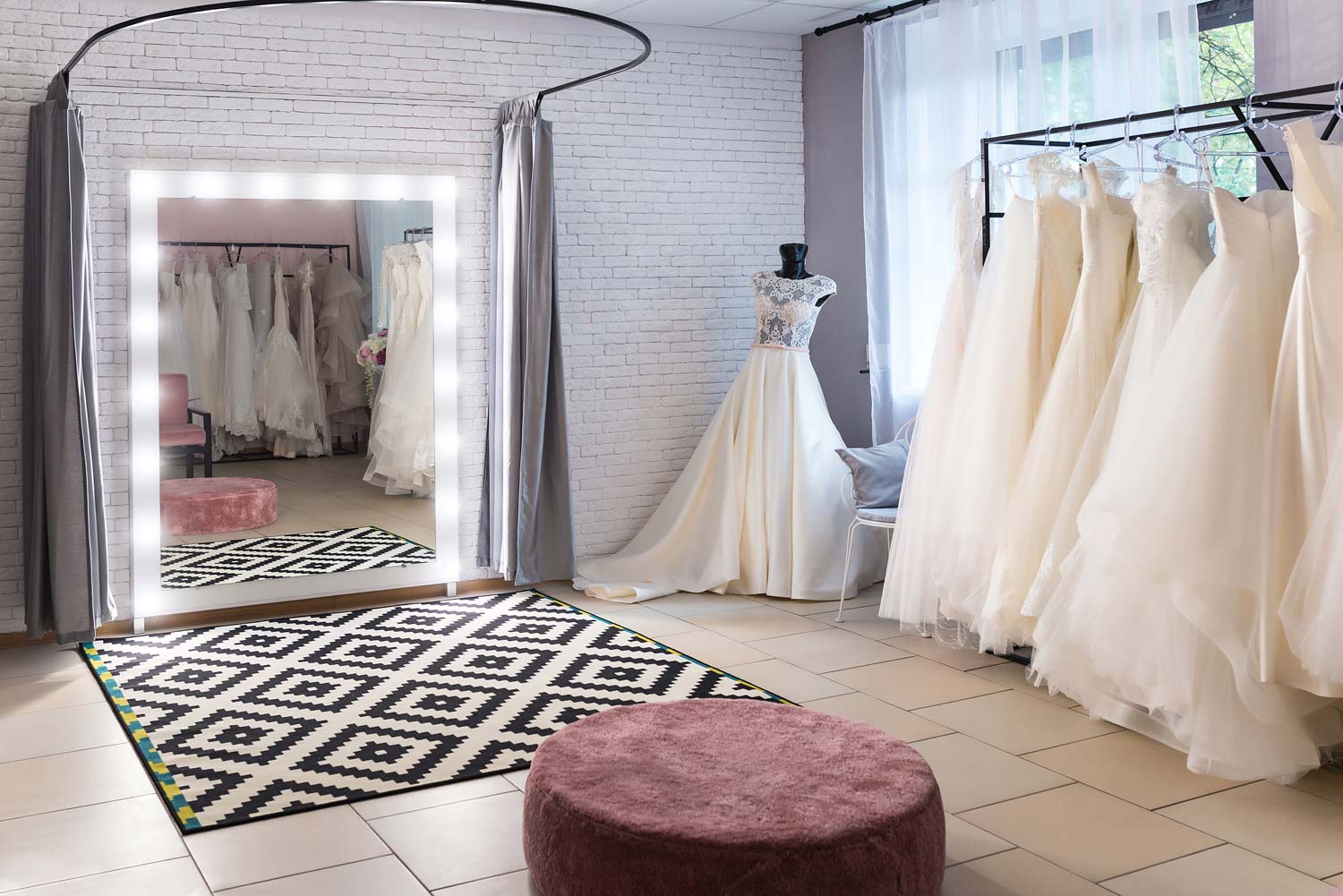 Grace loves lace
Grace Loves Lace is an Australian original that has become one of the best salons NYC boasts about. With Soho Place located on the east coast, bohemian brides can now get all the best feminine dresses. Their pieces appeal to the ethereal, wild, and free-spirited. The best part is that the most pinned dress on Pinterest originated from this brand. Go and enjoy the bright lighting and warm staff as you choose a dress while sipping on some Australian sparkling wine.
Spina Bride
Think one-of-a-kind dress, unconventional, out-of-the-box wedding attires, then Spina Bride has your number. This NYC salon located in NYC treats you like royalty. You get the princess package with welcome slippers and your choice of liquid like water, tea, or champagne. Spina Bride has knowledgeable and pleasant stylists that take you around and arm you with information. And there's so much to look at, as this place features up-and-coming designs from around the world. Visiting Spina Bride is indeed an experience.
Bridal reflections
Bridal Reflections tells reminds you of your importance the very minute you step in. Talk about a premier couture salon bathed in white and furnished with red carpet? What's more regal? Founded over four decades ago in Massapequa, New York, it expanded its roots to Carle Place and NYC. All kinds of designers from around the world have their latest designs showcased here. And each salon has different prices for their dresses. For instance, while prices at Massapequa peak at $10000, New York peaks at $25000, and Carle Place peaks at $15000. However, you're allowed to buy your dress and take it anywhere for alterations.
Mark Ingram atelier
If you're looking for NYC bridal shops with updated designs and custom touches, Mark Ingram atelier is the place to be. Top designers worldwide like Vera Wang, Lela Rose, Viktor, and Rolf have their collections showcased at this midtown store. Mark Ingram travels the world to select these dresses, and he's hands-on at the showroom for the brides. The lucky brides also get personalized experiences as they're assigned, personal seamstresses.
There are tons of beautiful wedding attires everywhere you look. But wedding dresses in NYC make you the talk of the moment and for a good while. There are many stores in New York, but we've brought you only the best bridal shops in NYC. Head Over there with a plan and make your dreams come true.