O'Douds is the best Traditional Pomade out there for smoothening fine hair. It has a classic look with modern properties. Simply put, O'Douds is a wax that works by moisturizing skin and hair at the same time providing moisture to fight frizz and control shine. The texture of this product is buildable and easy to apply to damp hair; it moves easily from root to tip with minimal product build-up. Use a small amounts of Classic Pomade on damp roots or styling coils to create a more prominent look. O'Douds Classic Pomade is a versatile product that can be used on hair stages from light to medium.
Review of O'Douds – Traditional Pomade
The O'Douds Traditional Pomade is all natural- no petroleum products whatsoever. It has a nice, pleasant smell too. I've tried quite a few other pomades that were rather sticky and hard to wash out, but this stuff was a breeze to wash out. I'd definitely recommend it to anyone who wants an easy-to-use traditional pomade. – Finlay Wall
This stuff is great. Really is the best water-based pomade I've tried. My hair is very thick and curly, and I have a hard time finding a pomade that doesn't turn sticky and crunchy in my hair or flake off throughout the day. This stuff holds all day without flaking. It washes out easy with just warm water, and it doesn't leave any residue. I'd recommend this to anyone with thick hair that needs more hold than regular. – Kyle Johnson
I love this product. The texture is smooth, the hold is strong and the smell is fine. I have been looking for a petroleum based pomade that can hold up in 95 degree weather and this stuff does it better than anything else I have tried. I am not saying that O'Douds will make your hair hard as rock but it gets pretty close. It has a nice shine to it that really shows off in the sunlight. – Zak Thorpe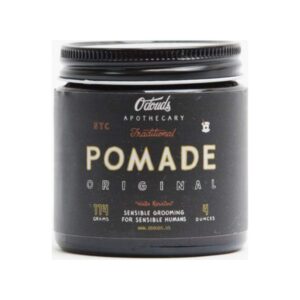 Product Descriptions
O'Douds Traditional Pomade washes out easily, styling your hair with natural oils and waxes that enhance the look of any style. With a high-shine finish, you'll love how it looks and feels in your hair. And since it's petroleum free, you'll be doing something good for the environment every time you grab O'Douds. This Water Soluble pomade is easy to apply and wash out, while keeping your hair clean and shiny. Made with all natural ingredients and with a slight, subtle citrus scent, this pomade is great for a classic look, whether its a greaser or just one that you prefer.
Features
Lightweight texture
Long lasting hold
Medium shine
Petroleum free
How to Use
1. Apply a small amount of the pomade to your hands
2. Rub palms together to heat up the pomade
3. Distribute evenly throughout hair
4. Comb or brush into place