Reflection of Sweden Illuminate Colour Shampoo  is a fresh and green colouring used for hair colouring that provides an intense and glossy look while balancing healthy natural oils from the scalp. This value packed shampoo is made using only the finest herbal ingredients and leaves, with special attention paid to foam formation and adherence to hair colouring themes. It comes in a convenient glass bottle that allows quick and easy application with fingers or a brush.
Review of REF Reference of Sweden Illuminate Colour Shampoo
I'm a big fan of Ref. I tried this shampoo in the past and really liked it. So when my current brand was empty, I went for Ref again. And I'm glad I did! It's one of few sulfate free brands that doesn't dry out my hair. The smell is great and the price is good too. It's a good option if you're looking for a sulfate free shampoo with some natural ingredients in it." – Faith Griffiths
I just wanted to say thank you for sending the shampoo out so quickly and to let you know how very much I like it! I have had my hair coloured for years, and I've tried many shampoos, but this is the first one that I have found that doesn't dry out my hair or make it feel brittle. My hair now feels soft and smooth and shiny! The other thing I really like about it is that it's not at all heavy or greasy. Thank you again. – Shannon Bird
The shampoo is amazing! I have been colouring my hair for 6 years now. It has been all over the spectrum of red, black and blonde. My strands were always dull, dry and brittle. I tried everything from Aveda to cheap grocery store brands. Nothing worked. Then I bought Illuminate and my hair hasn't looked this good in years. It is shiny, soft and looks like healthy hair should after a visit to the salon! – Alexandra Carr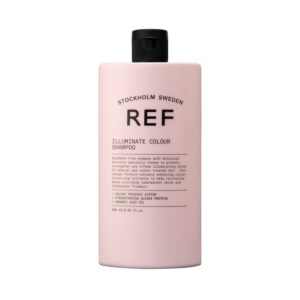 Product Descriptions
REF Colour Illuminate Shampoo is a sulphate-free shampoo with botanical extracts specially chosen to protect, strengthen and infuse illuminating shine to natural and colour treated hair. The unique formulation contains enhancing colour preserving nutrients to help revitalise and eliminate flyaways. It contains a unique blend of botanical extracts, specially chosen to protect, strengthen and infuse illuminating shine while rich oils and active ingredients help to smooth and de-frizz the hair and eliminate flyaways. Suitable for all hair types: coloured or natural, fine or thick. Safe for colour treated hair. Sulphate-free, paraben-free and silicone-free.
Features
1. To protect- Prevent deterioration that can occur with frequent colouring
2. To soften and smooth- Helps to eliminate tangles, frizz and flyaways
3. To lock in shine- Creates a beautiful finish to the hair, especially when used with Illuminate Conditioner
How to Use
1. Apply onto wet hair
2. Rinse off after shampoo
3. Allow to soothe for 3 minutes maximum before rinsing off