Every bad girl needs some baddie cute slick hairstyles; we're here to ensure you get them! 
Whether you're looking for a new cut, color, or style, we've picked 12 of the most iconic baddie looks to take your look to the next level. Get ready to upgrade your hairstyle with these fierce and fabulous options, from soft curls and updos to short bob cuts. 
So grab your hair supplies, turn up the music, grab some coffee, and let's get styling!
15 Hot New Baddie Hairstyles To Try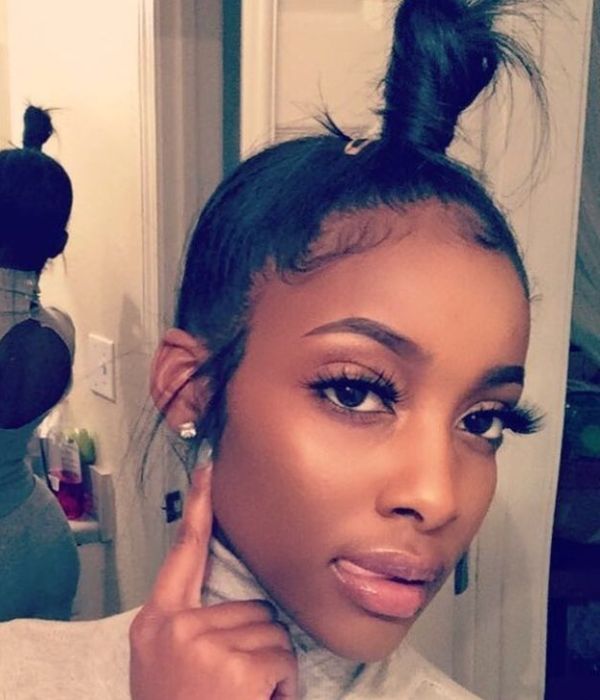 1) Top Knot
If you're looking for a baddie hairstyle that's both stylish and easy to maintain, look no further than the topknot. This classic style can be worn with any outfit and will turn heads wherever you go.
To achieve the perfect Top Knot:
Gather your hair into a high ponytail and secure it with an elastic.

Then, twist your hair into a bun and secure it with bobby pins.

Finally, mist your hair with hairspray to keep everything in place.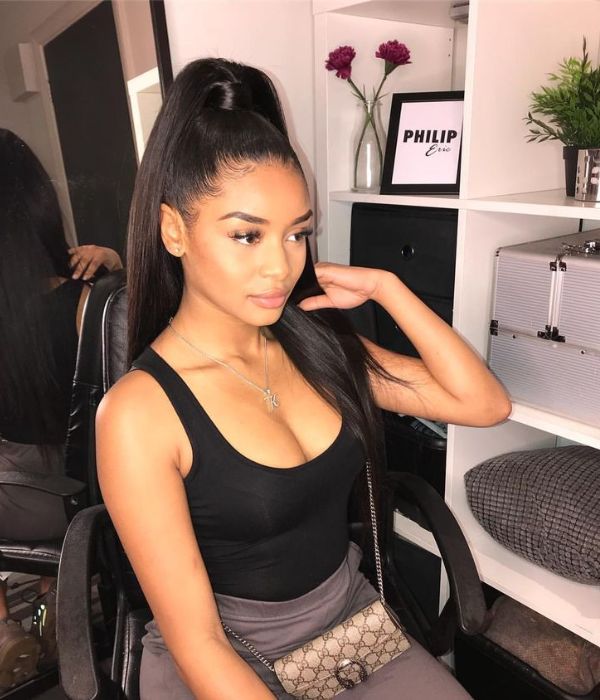 2) High Ponytail
A high ponytail is one of the most versatile baddies hairstyles. You can wear it with a relaxed outfit for a casual look or dress it up with a sexy outfit for a night out. It's also a great style for working out, as it will keep your hair out of your face and help you stay cool.
To get the perfect high ponytail:
Start by brushing your hair back from your forehead and securing it with an elastic at the crown of your head.

Gather all of your hair into the elastic and pull it tight. If you have long hair, you may need to use a second elastic to keep everything in place.

Give your ponytail a little shake to loosen up the sides, and you're done!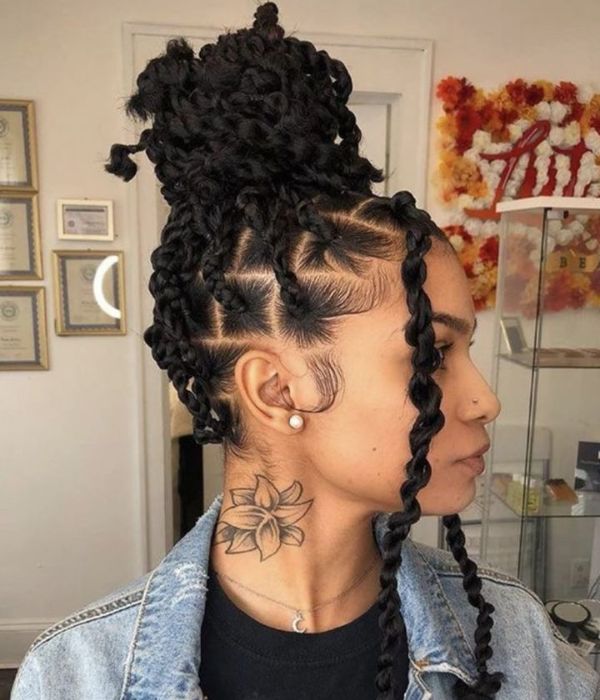 3) Braided Bun
The Braided Bun is the perfect hairstyle for baddies who want to keep their hair out of their face while still looking stylish.
To create this look:
Start by parting your hair down the middle and braiding each side.

Take the two braids and wrap them around the base of a bun.

Secure with bobby pins, and you're done!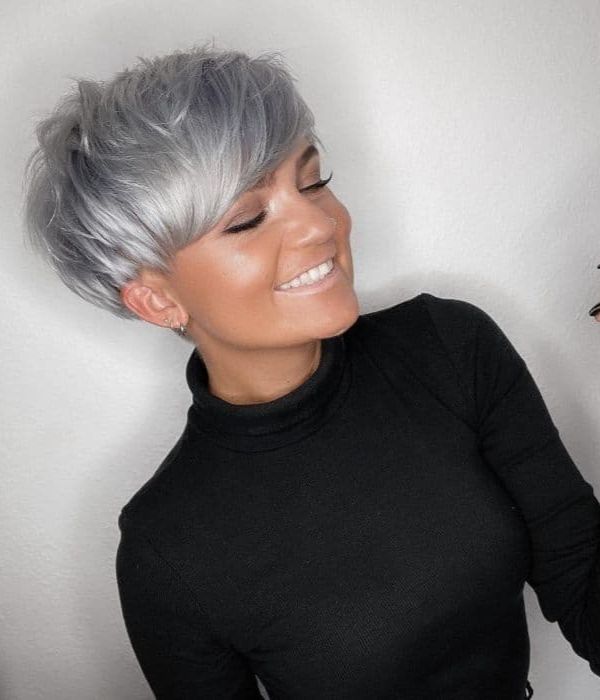 4) Sleek and Shiny Bob
A sleek and shiny bob is a great baddie hairstyle for short hair. This look can be achieved by using a flat iron or straightener to smooth out the hair, and adding a shine serum or oil to give it a glossy finish.
These straight-hair baddie hairstyles work best for those with naturally straight hair, but can also be achieved with the use of a straightening product or by blow-drying the hair straight. Adding some highlights can also make the hair look more interesting and give it a nice dimension.
To get this look, use a straightening iron to achieve sleek, straight hair. If you want to add some extra edge to your look, use a curling iron to create waves or curls.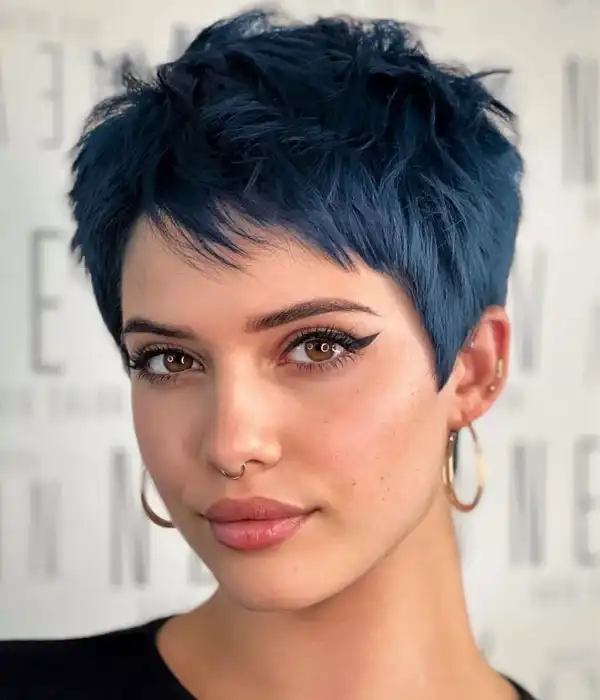 5) Messy Pixie Cut
If you're a baddie, you need a hairstyle to match. The messy pixie cut is the perfect style for you. This cut is short and sassy and can be styled in various ways. You can wear it sleek and straight or mess it up for a more casual look. It's the perfect style for showing off your personality.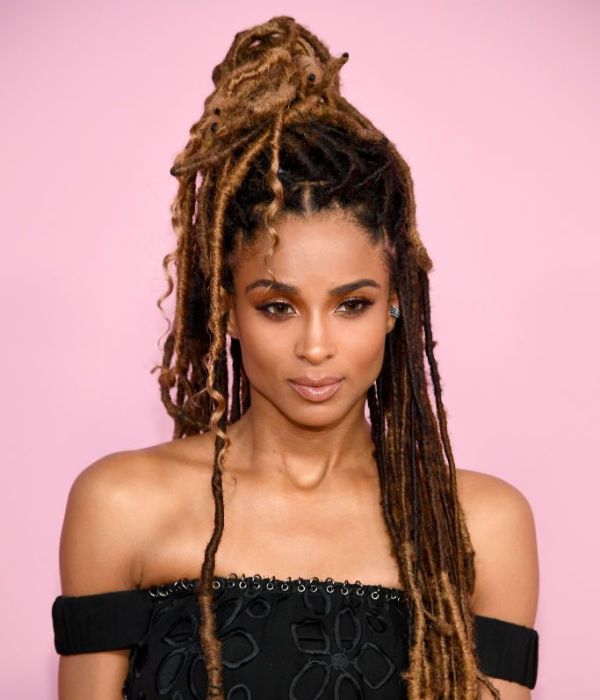 6) Half-Up Half-Down Style
A half-up, half-down hairstyle is a versatile and stylish look. The key to this style is to keep the top half of your hair pulled back and away from your face while leaving the bottom half loose and flowy. This style works best with straight or slightly wavy hair and can be styled in various ways.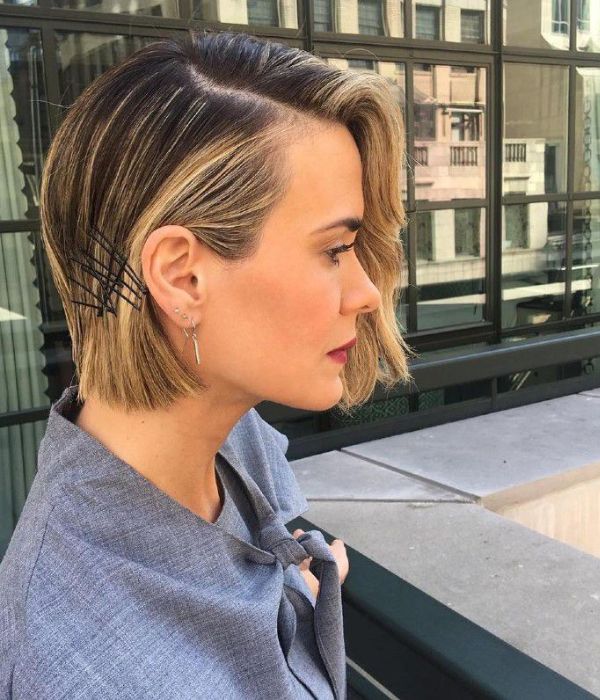 7) Rocker Chic Style
If you want to add some edge to your style, the rocker chic look is definitely for you! This style is about creating a cool, effortless look that's perfect for days when you want to throw your hair up and go.
To get the look:
Start by adding texture to your hair with a sea salt spray or texturizing powder.

Create a messy topknot or bun and secure it with a few bobby pins.

Finish off the look by adding a pair of statement earrings or sunglasses.
So there you have it – the perfect rocker chick hairstyle! Now you need a leather jacket, and you're good to go!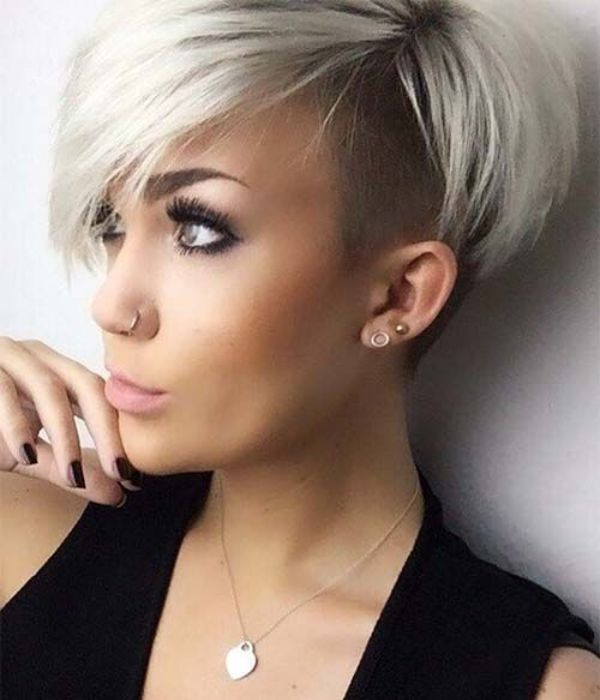 8) Edgy Undercut
An edgy undercut is a great baddie hairstyle for curly hair. This style involves shaving or trimming the sides and back of the hair short while keeping the top longer.
The top hair can be styled in a variety of ways, such as a messy, textured look or a sleek, high-top fade. This style can be a bold and daring choice for those with naturally curly hair, as it allows for a unique and confident look.
The curls on the top can be defined and tamed with a curl-defining cream or gel, and a hair pick or wide-tooth comb can be used to lift the curls and create volume.
To get an edgy undercut:
Start by shaving the sides of your head short.

Leave the top longer, and style it however you like.

For an edgy look, try spikes or a mohawk. You can add color to your undercut to make it even more unique.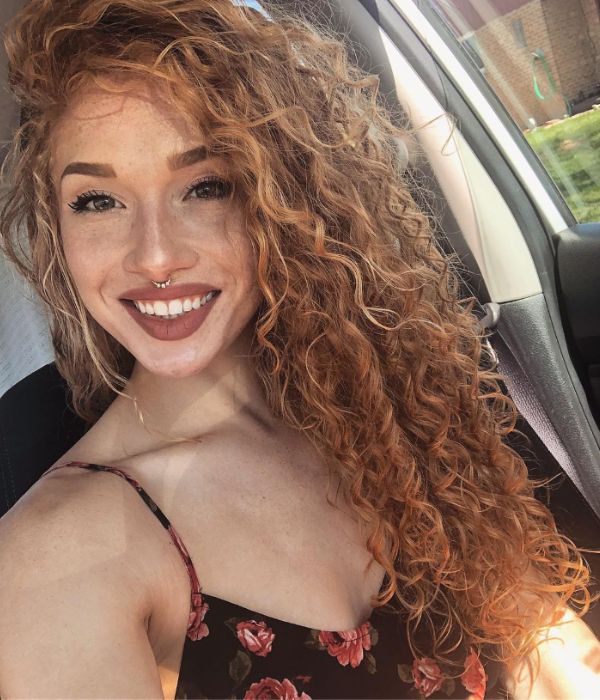 9) Girly Curls
Girly curls are the way to go if you're looking for a feminine and playful hairstyle. This style is perfect for bad girls who want to show their softer side, and it's easy to achieve with the right curling iron.
Just be sure to use a heat protectant spray before you start styling, and don't forget to set your curls with a light-hold hairspray.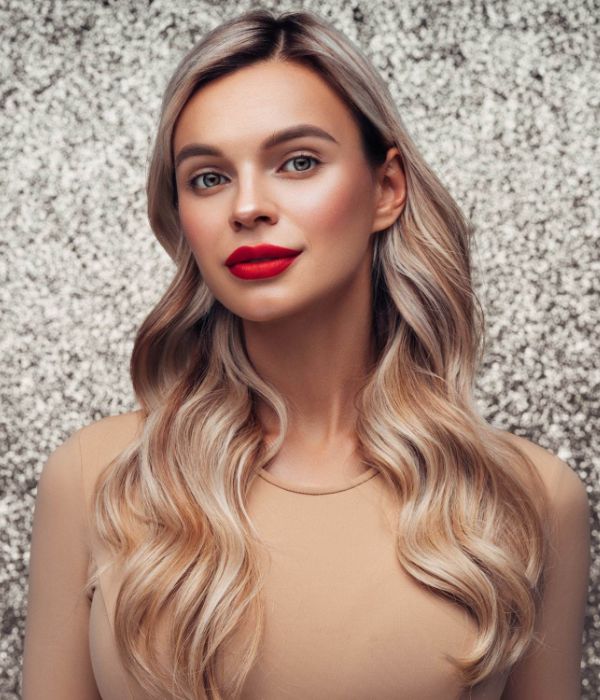 10) Romantic Waves
If you're looking for a baddie hairstyle that's both romantic and edgy, look no further than the romantic waves. This look is achieved by creating soft, loose waves in your hair using a curling iron or wand.
To make this look pop, add some strategically placed highlights or lowlights. And don't forget to finish it off with a strong-hold hairspray!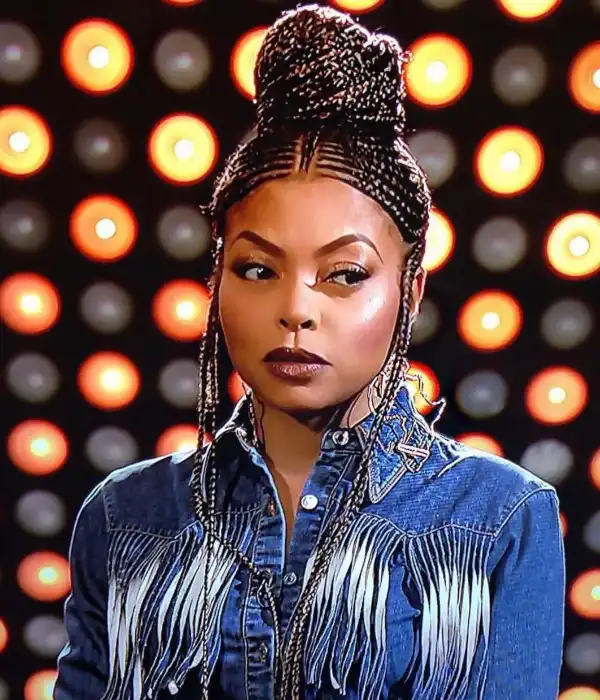 11) 
Braided Updo
If you're looking for a baddie hairstyle that's both stylish and unique, you can't go wrong with a braided updo. This hairstyle is perfect for any occasion, whether going out on the town or hanging out with friends.
To get this look:
Start by parting your hair down the middle.

Take two small sections of hair from each side and begin braiding them towards the back of your head. Once you reach the back, tie the braids together with an elastic band.

Use some bobby pins to secure the updo in place.
Not only does this hairstyle look great, but it's also very practical. It will keep your hair out of your face all day long and prevent it from getting in the way while doing other things.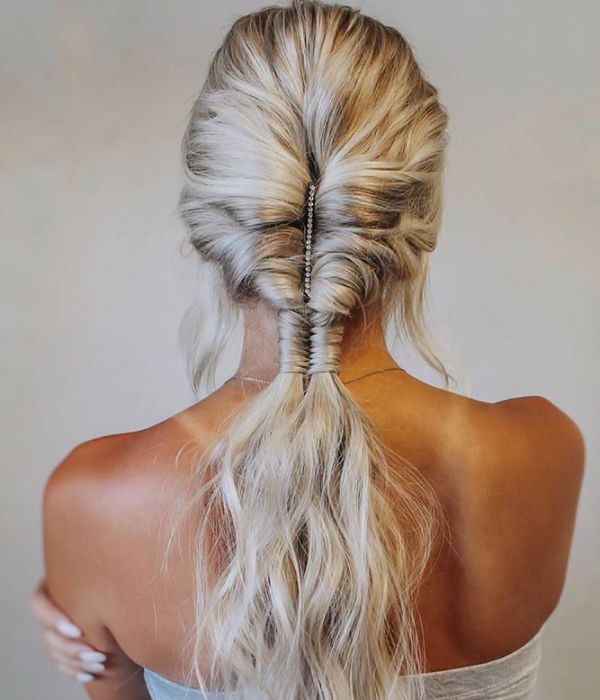 12) Topsy Tail
The Topsy Tail is a must-have for any bad girl. It's a simple hairstyle that can be worn with any outfit, and it's perfect for those days when you don't have time to do your hair. 
To achieve the look:
Gather your hair into a ponytail, then twist it until it forms a coil.

Take the end of the ponytail and put it through the hole in the center of the coil.

Pull on the ends of the ponytail to tighten the coil and secure it in place.
13) Bantu Knots
Bantu Knots considered as best baddie hairstyle for school. This style involves twisting small sections of hair into tight coils or knots. The knots can be placed all over the head or in a specific pattern and can be worn with or without extensions. Bantu knots can be a great way to add some interest to your hair while still looking neat and polished.
The style can be achieved by using a styling gel or mousse to define the curls, and a strong hold hair spray to keep the knots in place. Bantu knots are also a protective hairstyle that can help to keep your hair healthy and minimize damage.
Moved by the look of the baddie, and yet your hair length or volume doesn't allow you to have it? Try hair extensions. New Times Hair, a leading human hair extensions supplier is capable of achieving all hot hairstyles with their premium hair extensions. Fusion, tape-in, nano rings, weft, and many others all are made of Remy human hair from single donors. Shop with them today, and claim the baddie as your own!
Here are Some Tips on How to Create a Baddie Hairstyle
Choose a hairstyle that matches your personality: The first step in creating a baddie hairstyle is to choose one that matches your personality. Some options include braids, ponytails, buns, and more.
1) Gather your tools
To create a baddie hairstyle, you'll need a few tools such as a brush, hair ties, bobby pins, and possibly some hair products.
2) Prep your hair
Before styling, make sure your hair is clean and dry. You can also apply some products to help hold your hairstyle in place.
3) Start styling
Once your tools and products are ready, it's time to start styling your hair. Follow the steps of the chosen hairstyle and use the tools and products as needed.
4) Accessorize
Adding accessories to your baddie hairstyle can take it to the next level. Use hair clips, headbands, or ribbons to add flair.
5) Final touches
Once your hairstyle is complete, give it a final once-over to ensure everything is in place. You can also use some hairspray or hair gel to help hold your style in place.
Remember, the key to a great baddie hairstyle is to have fun with it and make it your own. Don't be afraid to try out different styles and accessories until you find the perfect look.
Conclusion
We hope this article has inspired you to try out all the awesome baddie hairstyles! Whether you are looking for something bold and edgy or something more elegant and timeless, there is a style here that can help express your unique sense of style. If you're already a professional in the beauty industry, you might want to apply for hairstyling positions.
Don't be afraid to experiment and have fun with these looks – after all, that's what being a baddie is all about! So go ahead–try out one (or two!) of these styles today!